How to Achieve Natural Facelift Results

When looking to rejuvenate their facial appearance, the most important element that the majority of facelift patients desire is natural-looking results. You want to look your best, and obvious signs of a facelift don't help you achieve that. Whether it is avoiding a "wind tunnel" appearance or visible scars, patients want results that you can't tell were achieved through surgery. Dr. Kao's revolutionary Ponytail Facelift™ provides patients with dramatic, flawless results.
Dr. Kao's Natural Facelift Results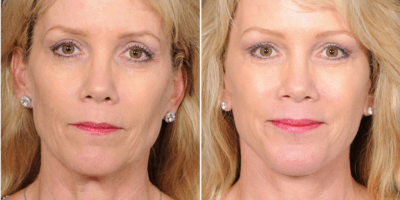 The incision technique along with the lifting technique used for your facelift will impact the quality of your results. Most surgeons perform facelifts by creating incisions within the hairline that run along the temples, around the ears, and around the earlobes. The skin and facial structures are then usually pulled horizontally to create a tighter appearance.
Dr. Kao's Ponytail Facelift™ completely avoids the poor techniques of a traditional facelift. First, Dr. Kao uses only small incisions along the hair-bearing area of the scalp. The deep muscular regions of the face are then pulled in a vertical direction. This provides a natural lift and volume without creating the appearance of a lateral sweep.
Refine With Facial Detailing
Dr. Kao will often recommend that his patients undergo facial detailing in combination with their facelift surgery. While a facelift targets the drooping facial features, the facial detailing procedure can improve the appearance of wrinkles, volume loss under the eyes, and poor skin tone. Facial detailing utilizes "super fat" that has been harvested through liposuction and injects it into the skin. The facial detailing procedure plumps and smooths the face, which nicely complements almost any facelift.
Addressing the Eyes
Men and women who fail to address aging around the eyes will often find that their facelift results don't provide the total, natural results they desire. This is because the eyes often present finer facial aging that patients may not notice if they suffer from pronounced aging along the lower third of their face. Dr. Kao can perform a brow lift or blepharoplasty as a part of your Ponytail Facelift™ to provide you with the best results possible.
If you are looking to achieve the most natural, age-reversing facelift results possible, schedule your consultation with Dr. Kao today. Contact our office at 310-315-9211 and fill out our online contact form for further information.
---