Skinny Bikini Tuck™ Technique
Dr. Kao's Skinny Bikini Tuck™ Technique is leading the cosmetic industry with a cutting-edge tummy tuck procedure that provides comprehensive waistline contouring for an overall more slender midsection. Pregnancy, weight fluctuations, and the natural aging process often cause women to develop larger waists and lose their core strength. Despite following a healthy diet and exercise regimen with numerous sit-ups, they are unable to tighten their waistline. The Skinny Bikini Tuck™ Technique restores tight abdominal muscles and removes excess skin and fat, and it does so with minimal incisions and endoscopic methods for enhanced core strength. This state-of-the-art procedure addresses loose tissues all the way from the pubis to the sternum, which narrows the rib cage and completely sculpts the abdomen for a skinny waist. If you have loose abdominal wall muscles, excess fat, and minimal loose skin, contact Kao Plastic Surgery to see how you can get a skinny waistline with the innovative Skinny Bikini Tuck™ Technique.
How Is the Skinny Bikini Tuck™ Technique Done?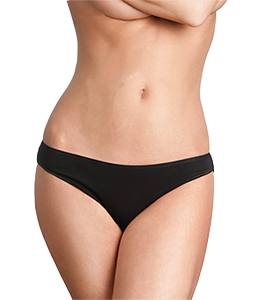 Micro-liposuction
Dr. Kao first sculpts the waistline using micro-liposuction. Like traditional liposuction, this method removes excess fat, but Dr. Kao uses a tiny incision, which results in very minimal scarring.
Endoscopic Muscle Tightening and Waist Narrowing
For the appropriate candidate with good skin tone and minimal laxity, Dr. Kao then creates a small incision just above the pubic bone (slightly lower than where a C-section scar would be). A camera and endoscope are used to dissect the tissue from the incision up to the ribs. Using the endoscope, Dr. Kao repairs the loose abdominal muscles (diastasis recti) all the way from the sternum down to the pubic area. This creates a more narrow rib cage and a tighter, more slender waistline.
Skin Removal
Once the waist is tightened, there will be some excess skin that is removed from along the incision.
Concerns
Recovery
Following your Skinny Bikini Tuck™ Technique, you may experience some swelling and bruising in the treated area, but this should resolve after a few weeks. Be sure to avoid all strenuous activities for at least three weeks. However, you will be encouraged to walk around in the first few days following your surgery to prevent blood clots from forming. You will be able to resume all normal activities when Dr. Kao gives his approval, which is usually four weeks after your surgery.
Results
The result of Dr. Kao's Skinny Bikini Tuck™ Technique is a narrow rib cage, skinny waistline, and tight abdominal wall, all without the large traditional tummy tuck incisions. This procedure can provide you with an attractive and youthful midsection with beautifully smooth curves.
Scars
Because no incisions are made around the belly button, the Skinny Bikini Tuck™ Technique does not leave any visible scars when wearing a bikini, and the navel stays intact. The scars from the small puncture from the micro-liposuction portion of the procedure and the small incision at the pubic bone are easily hidden when wearing a swimsuit or underwear and should fade over time.
Cost
The cost of your Skinny Bikini Tuck™ Technique will vary depending on factors such as facility, surgical, and anesthesia fees. You will receive an accurate price sheet during your consultation with Dr. Kao at his office in Santa Monica.
Frequently Asked Questions About the Skinny Bikini Tuck™ Technique
Am I a good candidate for the Skinny Bikini Tuck™ Technique?

Women who want to correct a loose abdominal wall and excess fat who have good skin elasticity are ideal candidates for a Skinny Bikini Tuck™ Technique. Many athletic postpartum women with muscle separation can also benefit from this innovative procedure.

Patients with significant loose skin and sagging in the abdomen may be suited for a traditional tummy tuck to remove larger amounts of tissue.

What type of anesthesia is used for the Skinny Bikini Tuck™ Technique?

Dr. Kao performs his groundbreaking Skinny Bikini Tuck™ Technique procedure on an outpatient basis using general anesthesia.

How long does Skinny Bikini Tuck™ Technique surgery take?

The length of your Skinny Bikini Tuck™ Technique surgery will depend on the level of correction needed and if any other procedures are combined with your surgery.

Can I use the fat removed from my abdomen to enhance other areas of my body?

Are there any risks associated with Skinny Bikini Tuck™ Technique surgery?

As with most surgical procedures, Skinny Bikini Tuck™ Technique surgery may involve some risks. These include infection, changes in skin sensation, blood clots, and improper wound healing. Should any complications occur, please contact our office immediately.