Why Fat Is the Best Filler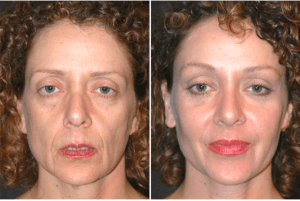 Non-surgical dermal fillers are becoming increasingly popular, with over six million treatments performed in the past year alone. Women and men are choosing injectable fillers to conveniently achieve a variety of results that include smoothed wrinkles, sculpted faces, and enhanced lips. However, for many, injectables aren't the cost-effective, long-lasting treatment they truly need. Patients often find that they need to return to the office multiple times a year for an injectable treatment and see improvement only in the appearance of wrinkles. Dr. Kao has perfected a revolutionary procedure that uses your own fat as a facial filler, and it is providing his patients with better, longer-lasting results than traditional injectables.
How Is Fat Used as a Filler?
Dr. Kao is the only doctor in Southern California who uses regenerative cells for facial detailing/bio-grooming. Gentle liposuction is used to harvest fat from trouble areas such as the abdomen, hips, thighs, and back. Dr. Kao then purifies the fat through his unique, multi-step process, which breaks down and eliminates weak fat cells. This process ensures the highest concentration of stem cells, known as "Super Fat." Dr. Kao can further isolate the regenerative cells into "Powdered Sugar Fat" by putting the fat through a device that has two very small filters, which microfractures the fat into almost individual cells so that the regenerative cells are readily available. Super Fat is ideal for restoring volume to the face, while Powdered Sugar Fat is used to correct surface wrinkles.
Dr. Kao's Injection Technique

Traditional injectable fillers can become hard or lumpy, leading to unnatural results. Dr. Kao's technique involves a blunt-tipped cannula to deposit microdroplets of fat through various layers of tissue. His sculptural injection process keeps everything in balance. This provides a deeper, fuller, and more natural facial rejuvenation. Dr. Kao's 18 years of experience injecting facial fat allows him to sculpt and refine your face for a smooth and naturally rejuvenated appearance.  
What Can Fat Achieve?
Fat used as a filler can achieve more dramatic result than other fillers because it works within the tissues to regenerate the surrounding cells. Not only will you find that fat can erase wrinkles and restore lost facial volume, but Dr. Kao's regenerative fat cells also soften scar tissue and restore vibrancy and vitality to the skin, even after radiation or fibrosis. Regenerative cells promote angiogenesis (the growth of blood vessels that feed the skin) for a brighter, healthier complexion.
Where Can Fat Be Used?
Fat is extremely versatile in its uses around the face. Dr. Kao's sculpting process ensure a natural, balanced appearance. Dr. Kao will determine which areas require correction and how much fat is needed to achieve flawless results. The following areas can be rejuvenated with Dr. Kao's fat transfer procedure:
Shallow foreheads

Brow wrinkles

The inside orbit of the eyes

Cheeks

Temples

Jawline

Lips

C

hin definition

Nasolabial lines
*Watch the follwoing video for additional fat grafting information
If you are interested in seeing if fat is the filler you've been looking for, schedule your consultation with Dr. Kao today. Call us at (310) 315-9211 or contact us online.
---